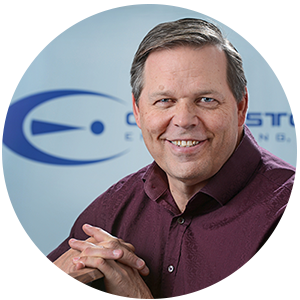 Mark W. Olson, P.E. – Principal/Owner
As Principal and Owner of Cornerstone Engineering, Inc. (CEI), Mr. Olson has over 35 years of experience in the consulting civil and structural engineering design business.  A graduate from the University of Washington civil engineering program, Mark has spent many years in the multi-discipline consulting engineering business with a diverse civil and structural engineering background encompasses a wide range of government, private and industrial projects including power plants, pulp and paper processes, chemical processes, oil and gas processing, aircraft manufacturing, material handling, microelectronics, laboratory and commercial facilities.  Mark started Cornerstone Engineering, Inc. in 1999 to provide fall protection engineering to industrial clients, but quickly turned the company focus toward the budding wireless telecommunications industry. Today CEI enjoys a diverse clientele across many sectors such as commercial, residential, industrial and land development for both engineering and land surveying services throughout the Pacific Northwest.  When not working hard to ensure a high standard of quality in our work product, mentoring young engineers and designers or promoting a family culture in the office, Mark can be found out fly fishing in the nearest body of water.  Mr. Olson a licensed professional engineer in WA, OR, ID, CO, MI, LA,  AZ, CA, WY, MT, SD, AK and British Columbia.
Jonathan Gibson, P.E., S.E. – Engineering Manager
Since joining CEI in 2005 after graduating from Montana State University, Jonathan has grown from an eager young design engineer into the well-rounded and knowledgeable structural engineer he is today.  His project history includes structural assessments of industrial, commercial, and mid-rise construction in addition to design of residential homes and telecommunication structures.  Jonathan is extremely educated in current building codes and construction practices with all common building materials.   His professional approach to projects is to provide clients with excellent service and efficient cost-effective structural solutions that fully address their needs.  His skills and professional attitude make him a valued asset not only to clients, but also to other younger engineers within the company which he willingly provides a great deal of mentorship and guidance.  Jonathan is a licensed PE and SE throughout the Pacific Northwest.
Raymond "JR" Slater, P.L.S. – Professional Land Surveyor
Since joining CEI in 2010, J.R. has been an important member of the CEI team.  J.R. grew up in a surveyor family and he followed in his father's footsteps.  With over 35 years of surveying and project management experience and proficiency in construction staking and layout, topographic, volumetric, boundary, right-of-way, and other land development surveying, J.R. is well suited to manage our diverse survey projects. His expertise in property research, field data collection and operation of the most current survey equipment allows great efficiency in taking field survey data to the design and documentation stage.